Who are the top sports personality of the year?
Sports has always been a big deal. For many years, men, especially, sit before their television screens or troop to the stadiums to see sportsmen and women play the game they love.
With the love for the game, also comes with revere for sportsmen and sportswomen. Some enjoy the love of fan base more than others obviously and this could probably be due to the fact that some can be regarded as being on the top.
For whatever reason ranging from appeal to actually being very talented at the game, over the years, certain players are regarded as the top personalities of their generation. Here are the present top 5 sports personalities of the year 2018.
Lionel Messi:
Lionel Messi is a 31-year-oldd Argentine footballer who plays forward for Barcelona FC and Argentina national team. He also captains both teams. Messi started his football career at Barcelona's youth academy, La Masia and became a major part of the Baby Dream Team. Although, at the start of his career, he received an offer to join Arsenal but he chose to remain in Barcelona where he still is today. And since then, he has supported the team in winning 33 trophies, including nine La Liga titles, four UEFA Champions League titles, and six Copas del Rey. For someone who suffered a growth hormone deficiency at age 10, Messi is regarded as one of the greatest players of all times. He has won five Ballon d'Or awards, four of which, he four consecutively. He has also won five European Golden Shoes and he holds the record for most official goals scored in La Liga.
Cristiano Ronaldo: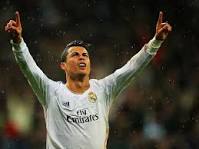 Born on the 5th of February, 1985, Cristiano Ronaldo is a Portuguese footballer. He started his football career in amateur team Andorinha from 1992 to 1995, and later spent two years with Nacional. Ronaldo went on to play for Sporting CP. He moved to Manchester United in 2003 when the then manager of Manchester United, Alex Ferguson noted the talent in him based on the defeat of Manchester United by Sporting. Since then, he has moved to Real Madrid where he spent 9 years. He was recently transferred to Juventus in July 2018 for more than €100 million, the highest ever for a player over 30 years old. Despite dealing with a heart condition when he was a teenager, he is regarded as one of the greatest players of all times. He has won five Ballon d'Or awards and is the first player to win four European Golden Shoes. Ronaldo has also won 26 trophies, including five league titles, five UEFA Champions League titles and one UEFA European Championship. He holds the records for most official goals scored in Europe's top-five leagues.
Lebron James: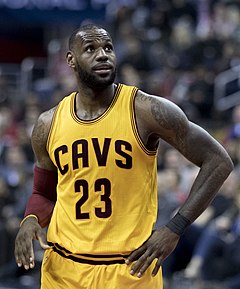 33 year old Lebron James is an American basketball player, born in Akron, Ohio. He started basketball playing for his High School in Akron and since then recognised as a future NBA star. He started professionally playing for Cleveland Cavaliers, where he quickly established himself by winning NBA Rookie Award of the year. He moved to the Miami Heat after being a free agent, then back to free agency, then the Cleveland Cavaliers where he started from and presently, in 2018, he signed to the Los Angeles Lakers. James is regarded as the one of the greatest players of all time by many. Throughout his career, he has won four NBA Most Valuable Player Awards, three NBA Finals MVP Awards, two Olympic gold medals, three All-Star Game MVP awards, and an NBA scoring title. He is the all-time NBA playoffs scoring leader.
Serena Williams:

Born in Michigan, Serena is an American professional Tennis player. Although her parents wanted her to clock 16 before playing professional tournaments, her first tournament was in 1995 when she was 15 and she lost in the first round of qualifying. After suffering defeat at the qualifying rounds of three tournaments the following year, she had her first careers win, defeating over 10 top players. Since then, she has suffered some victories and defeat and gone on to be one of the greatest players of all time. She was ranked No 1 by the Women's Tennis Association for the first time in 2002 and was No. 1 on six occasion between then and 2017, even holding it for 186 consecutive weeks at her sixth occasion. Williams holds the most Grand Slam titles in singles, doubles, and mixed doubles combined among active players, joint-third on the all-time list and second in the Open Era. She is the most recent female player to hold all four Grand Slam singles titles simultaneously, the most recent player to have won a Grand Slam title on each surface (hard, clay and grass) in one calendar year and together with her sister Venus, the most recent player to hold all four Grand Slam women's doubles titles simultaneously.
Usain Bolt: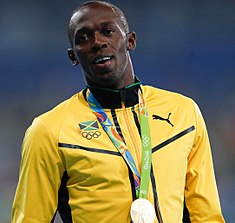 Usain Bolt, who is also called Lightning Bolt, is a Jamaican retired sprinter.  Although ran his last race last year in 2017, Usain is widely regarded as the greatest sprinter of all time. Bolt started running in High School. He, however, showed interest in other sports, but having noted his speed, his Cricket coach encouraged him to join Track and Field. Bolt performed for Jamaica for the first time in the 2001 CARIFTA Games in 400m and 200m, to which he both won silver gold. He gained global recognition for his double sprint victory in world record times at the 2008 Beijing Olympics, which made him the first person to hold both records since fully automatic time became compulsory. Bolt is the only runner to win Olympic 100 m and 200 m titles at three consecutive Olympics (2008, 2012 and 2016). Being the first athlete to win four World Championship titles in the 200 m and is the joint-most successful in the 100 m with three titles, he holds the record as the most successful athlete of the World Championships.