(CNN) Like father, like sons?
These are early days, but Roger Federer's four-year-old twin boys are already catching the tennis bug.
oung Leo and Lenny have arguably the best coach in the business with their dad chasing his 100th ATP title at this week's Tour Finals in London.
"They're only four, yes, but they've played for a few years now," Federer tells CNN Sport.
"We roll the ball and hit it along the ground. The ball can bounce a bit more and they can whack it over the net sometimes."
If dad's influence wasn't enough, Federer's wife Mirka was also a professional tennis player before retiring in 2002 because of a foot injury.
The whole family of six, including twin nine-year-old daughters Myla Rose and Charlene Riva, travel the world together and are steeped in the game.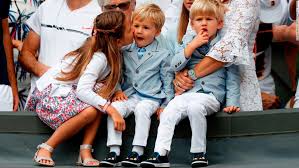 "The girls also play a little bit," the world No. 3 continues. "Actually we like them to play a bit because all the friends we have and their kiddies, they all play tennis and it would be a shame if my kids are the only ones who wouldn't play tennis.
"I want them to do sports because I think it's a great education, it's good to be out there and healthy."
Federer, who won his 20th grand slam title at the Australian Open in January, trails only Jimmy Connors (109) in the all-time list of ATP titles. Having turned 37 earlier this year, he's shown no sign of retiring in the near future.
He described the prospect of reaching a century of career wins this week as the "perfect storm," but the Swiss' hopes took an early blow with a 
first-round defeat by Kei Nishikori
 in London.
Federer's group also includes South African Kevin Anderson and Austrian Dominic Thiem — formidable opposition in the way of a seventh title at this event.
The tournament pits the top eight players in the world against each other, although 
Rafa Nadal
and Juan Martin Del Potro — ranked second and fourth in the world — are missing through injury, replaced instead by Nishikori and American John Isner.